- 14.07.2014 - Tyrol is a province in Austria which has a multi-national history. It is located in the heart of the Alps, between Italy and Germany. Geographically Tyrol is quite similar to the mountainous Samosir island in Sumatra, one of the most beautiful islands in Indonesia. One of the most popular musicians in Tyrol is Hermann Delago. He is well known in Austria but also around Europe as well as in Indonesia. Hermann Delago is a great composer, singer and multi-instrumentalist as well as an experienced conductor. In 1995 Herman Delago travelled to Indonesia for the first time and was fascinated by variety of interesting cultures and music. His journey started in Bali and not long after he arrived at Lake Toba/Samosir island.
- 04.01.2014 - Dear Costumer, It was nearly two months that we were not reachable through our phone lines . Now we are happy to inform you, that our phone lines and Our Internet connection / WIFI are back to normal. Enjoy Our FREE WIFI services, while your staying in our resort . HAPPY NEW YEAR 2014
- 11.10.2013 - Dear Customers, Due to the Telephone cable are beeing damage in the area of Tuk Tuk, the tourism centre of Samosir Island. All the telephone line and internet, in our hotel, is not reachable.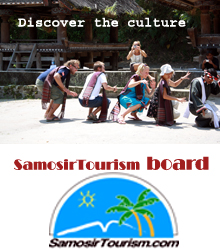 » Gallery Photo


Gallery Photo: ROOMS VILLA

Home » Foto Gallery » ROOMS VILLA » Photo Thumbnail
| | | | |
| --- | --- | --- | --- |
| room 2 | view from the room | living room of family room | room 1 |
| bathroom1 | | | |
Photo:
1