- 14.07.2014 - Tyrol is a province in Austria which has a multi-national history. It is located in the heart of the Alps, between Italy and Germany. Geographically Tyrol is quite similar to the mountainous Samosir island in Sumatra, one of the most beautiful islands in Indonesia. One of the most popular musicians in Tyrol is Hermann Delago. He is well known in Austria but also around Europe as well as in Indonesia. Hermann Delago is a great composer, singer and multi-instrumentalist as well as an experienced conductor. In 1995 Herman Delago travelled to Indonesia for the first time and was fascinated by variety of interesting cultures and music. His journey started in Bali and not long after he arrived at Lake Toba/Samosir island.
- 04.01.2014 - Dear Costumer, It was nearly two months that we were not reachable through our phone lines . Now we are happy to inform you, that our phone lines and Our Internet connection / WIFI are back to normal. Enjoy Our FREE WIFI services, while your staying in our resort . HAPPY NEW YEAR 2014
- 11.10.2013 - Dear Customers, Due to the Telephone cable are beeing damage in the area of Tuk Tuk, the tourism centre of Samosir Island. All the telephone line and internet, in our hotel, is not reachable.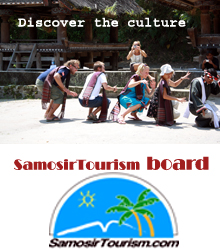 » GUESTBOOK

List Guestbook
[ ]
Guestbook 1 - 10 of 17 [Total 2 Pages]
Ksenia
Location: Singapore
Very nice and relaxing place, wonderful stuff and tasty food. The only issue was that some of the room windows were not sealed, so you could hear everything outside - people talking, boats, etc - so was hard to sleep. But otherwise the place is perfect! N
Lina
Location: Medan
Horas Tq to Samosir Villa Resort, we really enjoyed 3D2N stay at Samosir Villa Resort, with beautiful scenery and friendly staff, the place is highly recommended for those who want to stay in a tuk tuk or samosir.
Miyori
Location: Kuala Lumpur
Initially we planned to stay in another hotel but we gave it a try by inspecting the rooms when the ferry arrived the place. The views are excellent. The swimming pool is pleasant and it was fun jumping from the diving board provided into the lake! Weathe
yuni
Location: medan
samosir vilas emang ruar biasa...sangat2 memuaskan mulai dr fasilitas, pemandangan yg indah, dan jg pelayanan ny...pertahanankan dan tingkatkan trus...we will back next year...
Ooi Aik Chong
Location: Taiping Malaysia
We, a group of sixteen people stayed at Samosir Villa Resort for a night (1st June 2012).We find that the resort is clean, beautiful and comfortable. Boarding the ferry is very convenient as it comes right in front of the resort. The food served in the re
Nathan, Nardia and Matilda
Location: Noosa, Australia
We have recently visited (29 October 2012)Lake Toba for 3rd time in 18months and was our second stay in Samosir Villa's. It was great to get back to the island and see all the familiar staff and friendly locals. Their infectious smiles and dedication to s
Hennie en Genine
Location: Holland
Prachtig hotel met prima service in een van de mooiste plaatsen aan het Toba meer.
Mrs. Janto
Location: Medan
highly recommended hotel (resort)
cuk pranomo
Location: riau
Pemandangannya sangat indah.. nyaman hotelnya.... Ruarr biasa... Terimakasih samosir telah memberi kami sekeluarga kesan yang mendalam liburan lebaran tahun ini... Salam
Vandy Cuhadi
Location: Medan
Great..!! One of the best hotel in Toba Lake. I will recommend all my friends to spend their holiday in this hotel.