- 14.07.2014 - Tyrol is a province in Austria which has a multi-national history. It is located in the heart of the Alps, between Italy and Germany. Geographically Tyrol is quite similar to the mountainous Samosir island in Sumatra, one of the most beautiful islands in Indonesia. One of the most popular musicians in Tyrol is Hermann Delago. He is well known in Austria but also around Europe as well as in Indonesia. Hermann Delago is a great composer, singer and multi-instrumentalist as well as an experienced conductor. In 1995 Herman Delago travelled to Indonesia for the first time and was fascinated by variety of interesting cultures and music. His journey started in Bali and not long after he arrived at Lake Toba/Samosir island.
- 04.01.2014 - Dear Costumer, It was nearly two months that we were not reachable through our phone lines . Now we are happy to inform you, that our phone lines and Our Internet connection / WIFI are back to normal. Enjoy Our FREE WIFI services, while your staying in our resort . HAPPY NEW YEAR 2014
- 11.10.2013 - Dear Customers, Due to the Telephone cable are beeing damage in the area of Tuk Tuk, the tourism centre of Samosir Island. All the telephone line and internet, in our hotel, is not reachable.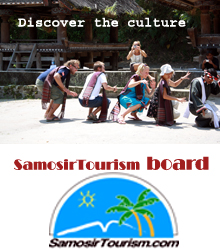 » GUESTBOOK

List Guestbook
[ ]
Guestbook 11 - 17 of 17 [Total 2 Pages]
ruth napitupulu
Location: medan
Samosir Villa Resort...satisfied service!! Honeymoon saya bener2 jd unforgettable moments, kamar yg bersih, view yg luar biasa ke arah danau,pelayanan yang super duper ramah, dan tmpt yg sangat bagus. Kalau ada liburan, gak sabar pengen dtg ke tmpt i
Edevaldo Simatupang
Location: Medan
wah.....segala sesuatunya tertata dengan sangat baik...jaya selalu samosir villa resort, seluruh staf dan karyawan sangat ramah..bravo samosir villa....
Michel van Mil
Location: The Netherlands
We will go back in October 2010 for the second time, because the first time we were very satisfied about our room and about the service.
Lisa
Location: Medan,North Sumatra - Indonesia
Our 3D/2N staying at Samosir Villa Resort was awesome.The hotel was clean,service was good (esp.Mr.Hutagaol was so helpful),reasonable price, stunning view. The food was average.I suggest the hotel to provide \\\"front beach/shallow area\\\" for
Mr Silalahi
Location: Medan
Bukan cuma lokasinya yang mantap tp coba nikmati juga segala fasilitasnya, belum lagi menu makanannya yang selalu menggugah selera dan yang pasti sesuai dengan kocek di kantong tuh
Mr. Herry
Location: Medan
Wow ! keren sekali lokasinya sekarang, gak kusangka deh... Oya kok gak dibuat room ratenya ?
Fitra Gunawan
Location: kutacane
kalo boleh buat dalam bahasa indonesia juga